About
Bought in 1998, Balmain Fine Art (Keith Denney and Andrew Clarke) have been exhibiting this, the world's largest collection of Miles Davis' art across Europe.
The collection began at over 200 drawings and several large scale acrylic paintings. Balmain Fine Art have become of the world's foremost experts on Miles' art over this time.
The collection is now managed by Keith Denney and Laura Hall (Daughter of Andrew Clarke).
The collection was purchased, in the main, direct from Guilia Troja, who was Miles' Girlfriend and lived with him from 1981 - 1985. Some of the collection, the acrylics, were bought direct from Jo Gelbard, Miles' last girlfriend, and who painted with him regularly.
Each artwork comes with full provenance, a letter of authenticity from Balmain Fine Art and copies of the letters from the Miles Davis Estate which show the collection was legally sold by Guilia Troja.
Over 150 artworks from this collection have been sold to date.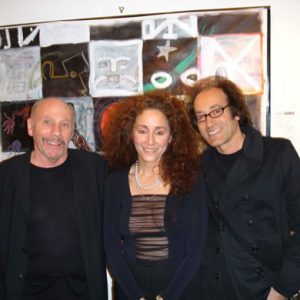 Keith Denney with Jo Gelbard and Jon Newey